Pregnancy is such a delicate stage in the life of any woman and a new mom needs all the love and care from her friends and family and also has to be very cautious and alert of what she consumes and does every day for 9 months straight. I don't think you have to be a female or a mother to know that. And within these 9 months of healthy eating and extra care, oh the pain of being alcohol-free! Of course, you can't consume alcohol, smoke, or take any kind of narcotic substances.
But as soon as the mother gives birth, she is free from all those bindings and rules, you know she can be back to popping champagne and start celebrating her new mommy life. A rather funny blogger and new mother of a baby girl had quite an interesting story that might interest you. Keep reading!
Emily Stafford, the mother of 7 month-old baby Nora.
Emily and her husband Luke welcomed a cute baby girl in their lives on September 23, 2017. She weighed 7lbs. 3oz. and was 20.5 inches long. The young couple was overjoyed to have their first born.
23-year-old Emily and husband Luke live in Zeeland, Michigan.
After the baby news, it was time for mama Emily to get back to her normal life.
The couple had a family get together where their family was present. And it was time for Emily to take her first sip of wine after a long break for 9 months. And you know, normally when you are sober for a long time it is obvious that your alcohol tolerance decreases drastically. It happens to everyone. So here's what happened. She had her drink and then tried making some pizza along with her sister Josie, and well, she discovered that her arm force to the distance and speed of the pizza being thrown in the oven was perfectly accurate. Magic hands!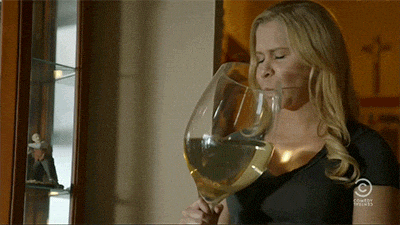 Here's a footage of the incident uploaded on Twitter by her sis Josie, thank God we get to see it!
Hats off to her bravery and confidence in thinking that she could nail it. But wait, that's what alcohol does to you. It makes you brave and confident!
https://twitter.com/josie_grady/status/985260090071638022
People on Twitter reacted and they loved her magic hands as well.
My boyfriend just watched this and laughed so hard he farted and now we're both on the floor crying. Thank you.

— ?????????? ?? (@ToastHippieee) April 16, 2018
And this one is definitely enjoying the silent laugh.
The best laughter is the silent laughter

— lindsay (@lindsay_cole) April 16, 2018
Aye, Emily is going viral and she must've gained a heck of followers after this.
if anyone wants to know, the mom who threw the pizza is @emstaffo ?? she's got mad skills

— jooooo (@josie_grady) April 16, 2018
Now we can say that alcohol is not that bad after all. If it can make new mommy Emily a pizza expert, it definitely did work like a wonder.